Bellflower's all-day sandwich menu includes items like the Chicken Boudin Sandwich (foreground) and the Shrimp & Oyster Sandwich, both served on homemade milk bread and served with lettuce, onions, tomatoes, cucumber, cucumber vinaigrette and mayonnaise.
"R.esilient. " It is a word that is often used to describe Detroit and its surrounding cities. And last but not least, 2020 showed us that Metro Detroit's food scene embodies the characteristic in spades. Although the food and beverage industry was among the hardest hit countries during the pandemic – more than 110,000 restaurants had closed nationwide by December, according to the National Restaurant Association – a cadre of resilient restaurateurs bravely tried to defy the odds and open new restaurants. Despite the challenges of running a restaurant during a pandemic, 726 new restaurants and grocery stores have opened in Michigan since last March. Meet 10 of these intrepid newbies to the food and beverage scene in southeast Michigan.
Bellflower Restaurant
F.From the outside, it wouldn't be surprising to see the historic Bellflower building that once housed Ypsilanti's local switch for the Michigan Bell Telephone Co., which inspired its name. Behind the door, however, there is a decidedly modern interior with bright white walls. Foliage plants, potted plants; and minimalist works by local artists. Bellflower's menu, however, is more decadent than understated. Offers include rich New Orleans classics like Po'boys made from home-baked bread and hearty gumbo combined with beef knuckle and pork belly, as well as vegetarian options like Aloo Gobi vegetables and roasted honey nut squash. Bellflower Restaurant, 209 Pearl St., Ypsilanti; bellflowerypsi.com
Alchemy
Alchemi farm-to-table restaurant opened in the former Mr. B's Sports Bar in downtown Royal Oak last summer. The interior with what was once a tartan carpet is now dimly lit by industrial furnishings and wrapped in mixed textiles, reminiscent of the intimate cosiness of a speakeasy. Fittingly, Alchemi's craft cocktails – served in mismatched, vintage-inspired glasses – are the highlight of the experience. The classic Old Fashioned gets an update with cinnamon-vanilla bourbon and chocolate bitters, while the Netflix show-inspired Peaky Blinder features orange peel-infused Irish whiskey and blueberry bush. Equally fascinating are dinners like rosemary and garlic lamb chops and crispy duck skin tacos. Alchemi, 215 S. Main St., Royal Oak; alchemiroyaloak.com
Blue fish
Last September, Dearborn welcomed the Blue Fish Asian restaurant and sushi bar. The menu – a modernized mix of Chinese, Korean, and Japanese cuisine – features deep-fried gyoza, kimchi fries, and an extensive selection of ramen. And don't forget the impressive selection of sushi. There are traditional rolls like tuna and salmon, as well as creative options like the Shakey Shakey – a burning shrimp tempura roll drizzled with honey and flavorful mayo. Still, Blue Fish's ornate presentation can be its crowning glory. The plates are adorned with vibrant edible orchids. Track rollers are designed in the shape of their namesake; and sushi smorgasbords are served on large three-dimensional wooden boats. Blue Fish, 22001 Michigan Ave., Dearborn; 313-757-7995; bluefishmi.com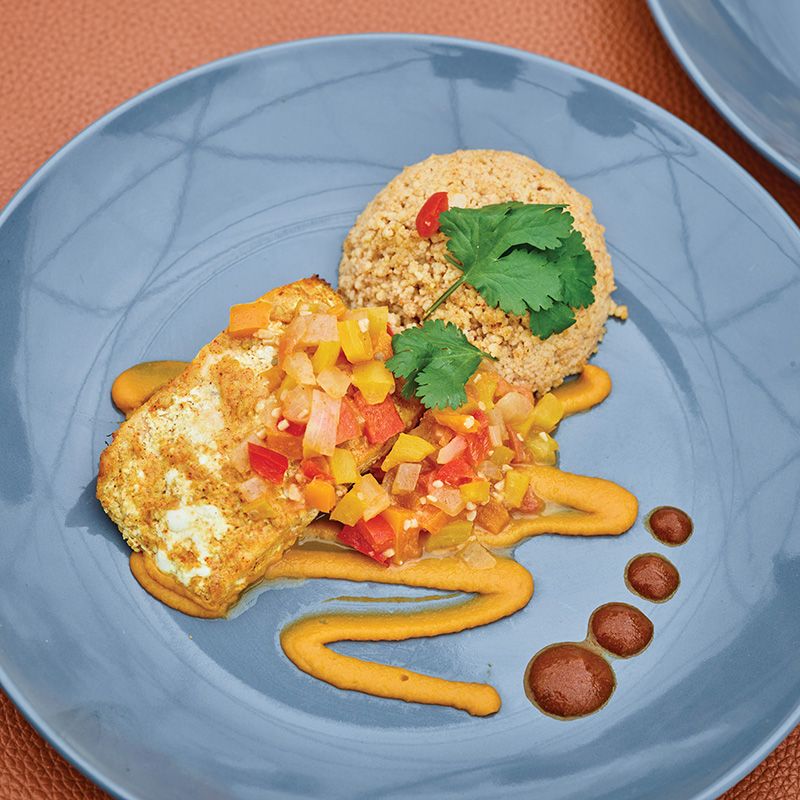 Salmon tikka couscous is served on a creamy sweet potato puree at East Eats.
East Eats
C.Jefferson Chalmers' newest restaurant is based on the concept of socially distant eating and consists entirely of individual geodesic domes. While the setup may have arisen out of necessity – at the time of launch, Michigan indoor dining was discontinued, providing a unique opportunity for the outdoor dome park – the result is a uniquely intimate dining experience. Each dome at East Eats is heated and furnished with benches, upholstered chairs, and a repurposed shipping crate table. Guests can enjoy home-style cooking with international influences, such as roasted chickpea couscous with Israeli couscous and sauteed vegetables, coriander dressing, and curry cauliflower mac 'n' cheese. For dessert, try the lemon and cardamom biscuit, which is served with vegan vanilla bean coconut milk ice cream. East Eats, 1018 Navahoe St., Detroit; easteats.us
Bunny rabbit
The culinary duo Justin Tootla and Jennifer Jackson left the prestigious seafood restaurant Voyager in Ferndale last year to work on a new project. In August, they unveiled their new Chinese joint, Bunny Bunny, in Eastern Market. The menu is broken down by region, with options like cumin lamb from the north, roast duck from the east, sweet and sour pork from the south, and a vegetarian dish of fried eggplant from the central provinces of China. Bunny Bunny is currently only available for take away, but at some point its dining room will have a nostalgic 1980s feel to it, complete with a pastel and neon palette. Bunny Bunny, 1454 Gratiot Ave., Detroit; 313-974-6122; bunnybunnydetroit.com
Laboratory Torino kitchen
The Italian cook and caterer Elisabetta Balzola, who moved to Detroit from Italy in 2014, opened the Cucina Lab Torino last October. The picturesque dining room should feel more like an intimate eat-in kitchen than a restaurant. It has a warm, simple design and an open kitchen. Chef Bazola's creativity is unlimited from a menu. Instead, she gathers the freshest ingredients every day to prepare seasonal, multi-course meals. She is known to serve authentic Italian dishes like Garganelli pasta with lobster and clams, veal tartare with artichokes and parmesan, and homemade panettone – a traditional sweet bread made with dried fruits. Cucina Lab Torino, 3960 Crooks Road, Ste. 200, Troy; 248-525-9098; kitchen-lab.com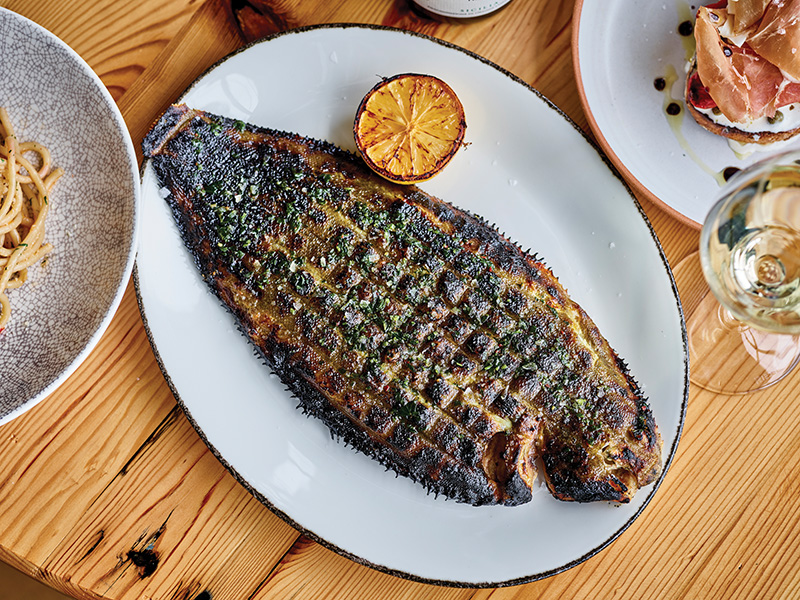 The grilled Dover sole offers a crispy char at Oak & Reel.
Oak & roll
C.Chef Jared Gadbaw, who previously headed the kitchen at the Michelin-starred Marea in New York City, opened the Italian seafood restaurant Oak & Reel last September. In an industrial area in Detroit's Milwaukee Junction neighborhood, brick, concrete, and exposed plumbing meet chic, contemporary accents to create an atmosphere that is upscale yet casual. Oak & Reel offers a five-course tasting menu consisting of citrus yellowtail, squid with smoked mussels, gnocchi with black truffles, osso buco with monkfish and a sweet chocolate paste with candied hazelnuts. Combine the meal with a selection from the restaurant's extensive list of international and local wines. Oak & Reel, 2921 E. Grand Blvd., Detroit; oakandreel.com
Lala is
Last July, Chef Allie Lyttle unveiled Lala's, the fresh, new incarnation of the former high-end French restaurant, The Standard Bistro & Larder. The room's velvet chartreuse booths remain, but the matte black and white walls are now adorned with pop-art-style paintings that reflect Lala's more relaxed and whimsical vibe. Lyttle's menu is modern and creative. Dinners include the Lala's burger with allspice cheese and candied bacon, and the farro salad with apricot and pickled onions. And at the weekend, guests can enjoy Lala's "Brunch Board", a varied selection of breakfast and lunch dishes that varies from week to week. Lala, 5827 Jackson Road, Ann Arbor; 734-263-2543; lalasannarbor.com
La Palapa del Parian
La Palapa del Parian started out as the local El Parian food truck, named after the hometown of owner Nancy Diaz-Lopez in Mexico. But last spring it was one of the stationary Mexican spots in southwest Detroit. Nevertheless, this is noticeable. One element that sets La Palapa del Parian apart is the abundance of seafood, including shrimp tostadas and spicy squid. Other authentic Mexican offerings include enchiladas, chilirellenos, and fajitas. La Palapa del Parian, 1633 Lawndale St., Detroit; 313-749-7143; facebook.com/LaPalapaDelParian/
Olin bar and kitchen
The latest addition to the downtown Detroit culinary scene is Holly McClain's Olin Bar and Kitchen – half of the couple behind Highlands at the GM Renaissance Center. Olin is more laid back than its older siblings and offers American cuisine with Spanish and Mediterranean influences. For dinner this means small plates of steamed mussels and potatoes and artichoke bravas, as well as entrees with confit chicken and smoked trout from Bucatini. Olin also offers a Sunday brunch menu, with dishes like spinach crepes and challah French toast. Both menus offer changing options – such as an artisanal cheese board and hearty goat cheesecake – from the restaurant's cheese program. Olin Bar and Kitchen, 25 E. Grand River Ave., Detroit; 313-774-1190; olindetroit.com