Food And Drinks
10 Vegan and Vegan-Friendly Restaurants to Try in Metro Detroit
Detroit (two locations)
This black-owned company reinterprets traditional soul food with a vegan twist. The menu includes staples like catfish, po 'boys and collard greens. Would you like to try all of our favorites? Check out the Soul Platter! The platter features catfish tofu, mac 'n' cheese, smoked collards, candied yams, black-eyed peas and a cornbread muffin. They also have a wide variety of smoothies, teas, and desserts.
Farmington Hills (online orders and events)
The Chive team offers vegan ready meals, baked goods, vegan food and catering. The online menu changes regularly and features specialties like chocolate donuts filled with cream and topped with peanut butter icing, as well as homemade enchiladas with black beans smothered in a rich mole. Don't miss the special wine tastings that combine several vegan wines with starters and canapés.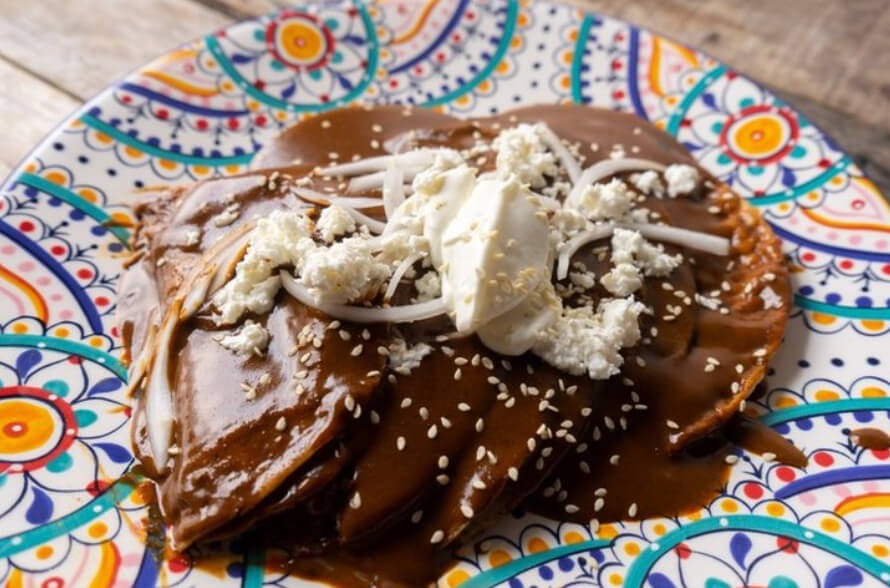 Detroit
Detroit is known for its thick, crispy, deep dish pizza that is loaded with cheese – but a vegan version? You get a reward! Grandma Bob's serves incredible, plant-based Detroit-style pizzas. Grab a vegan supreme with Violife cheese, hot peppers, sausage and vegetables or stick to the traditional with a simple vegan cheese. Your pizza order is not complete without a cashew Caesar salad or an order for vegan cheese bread! Can't you make up your mind Then order both of them!
Detroit & Madison Heights
Oodles and oodles of pasta! While this hip, Japan-inspired noodle joint isn't 100% vegan, it does have plenty of vegan options and a selection of gluten-free vegan products. The menu includes lots of ramen, pho and udon, as well as sandwiches and snacks to share. Their pho and ramen are not complete without ordering their steamed edamame. The peels are smothered with chillies, lemon, sesame oil and sea salt.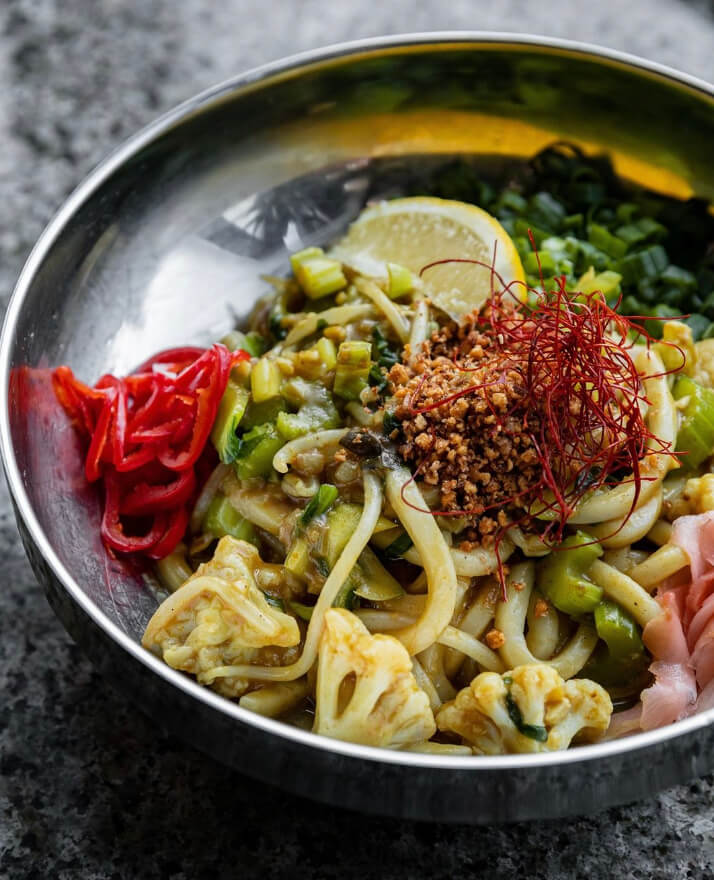 Troy
This casual Indian restaurant has an extensive menu of 150 vegetarian dishes, including a wide variety of vegan options. Must-tries include various dosas, which are served with a selection of delicious chutneys, fried samosas with spiced potatoes and peas, and crispy pani puri with a mix of potatoes and black chickpeas. The food is so good that you'll want to order several dishes, including our favorite veggie pakoda – a mix of vegetables fried in chickpea flour.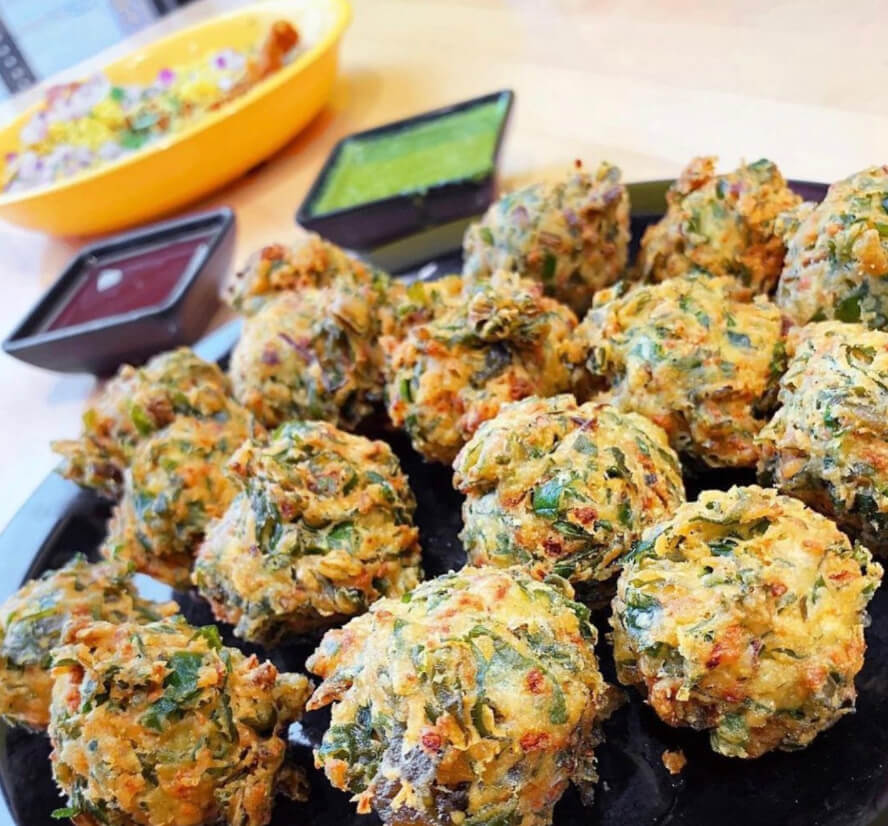 Photo credit: @thevegandetroiter on Instagram
Detroit
Check out this family run cafe that focuses on making healthy food available to everyone! The menu includes traditional specialties such as hearty lasagna with rich homemade marinara and homemade vegan cheese. Don't miss the Mamba Black Bean Burger – a secret family recipe that has been passed down through the generations. It won't disappoint! Do you need a tasty kick for your health? Grab the Antioxidant Filled Sea Moss Shake!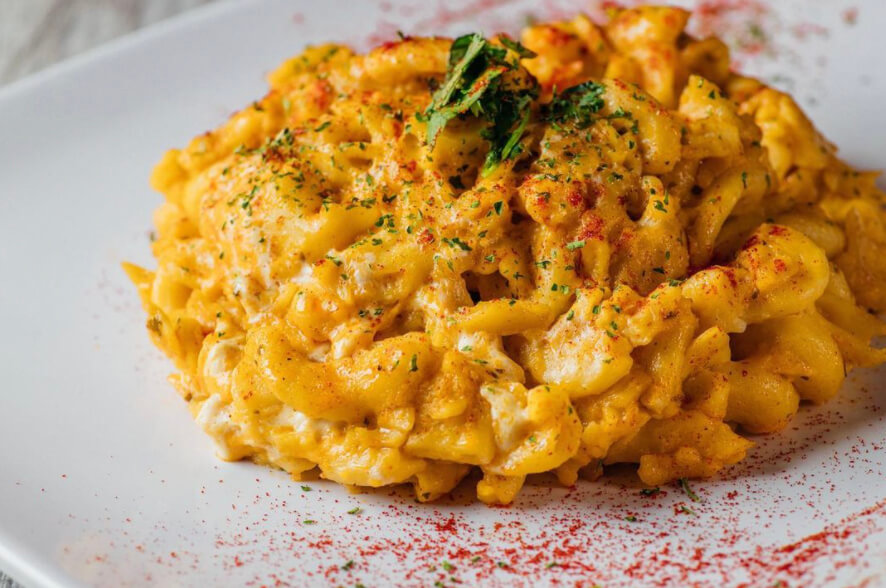 Midtown Detroit
Seva's extensive menu is located in the heart of Midtown and is filled with globally inspired vegan and vegetarian dishes. There are tons of favorites like coriander and peanut stir-fries, grilled pesto pizza sandwiches, and hearty jambalaya with field roast chipotle sausage. We recommend starting dinner with an order of their savory and slightly flavorful buffalo tempeh, which comes with their homemade garlicky goddess dressing. They also serve breakfast all day!
Plymouth
This retro cafe from the 1950s is 100% vegan and gluten free! The menu includes American classics such as burgers, coney dogs and shakes, which give them a vegan touch. Try the classic burger with Shimmy's lentil patties or try the nachos, which are filled with homemade chilli made from sweet potatoes and black beans. And don't go without ordering the famous Cookie Monster Shake. It's mixed with their cowgirl biscuits and vanilla soy ice cream. Go on, treat yourself!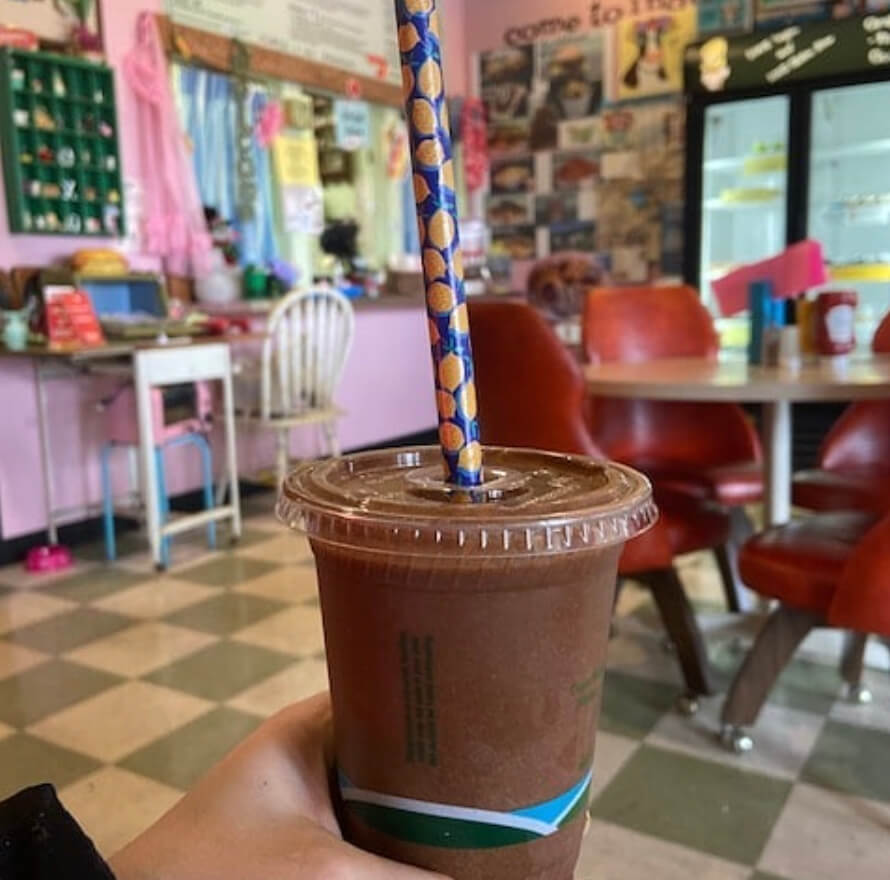 Ferndale
This new kid on the vegan block opened in 2020 and serves out of this world vegan home-style cooking for brunch and lunch. The menu includes entertaining dishes such as a chkn & waffle sandwich (homemade seitan patty between two golden, syrupy waffles) and the hot mess (grilled seitan with peppers, onions and cheese on a hoagie bun). We recommend adding a slice of homemade cinnamon chocolate coffee cake with every order – this is the perfect way to end brunch or lunch!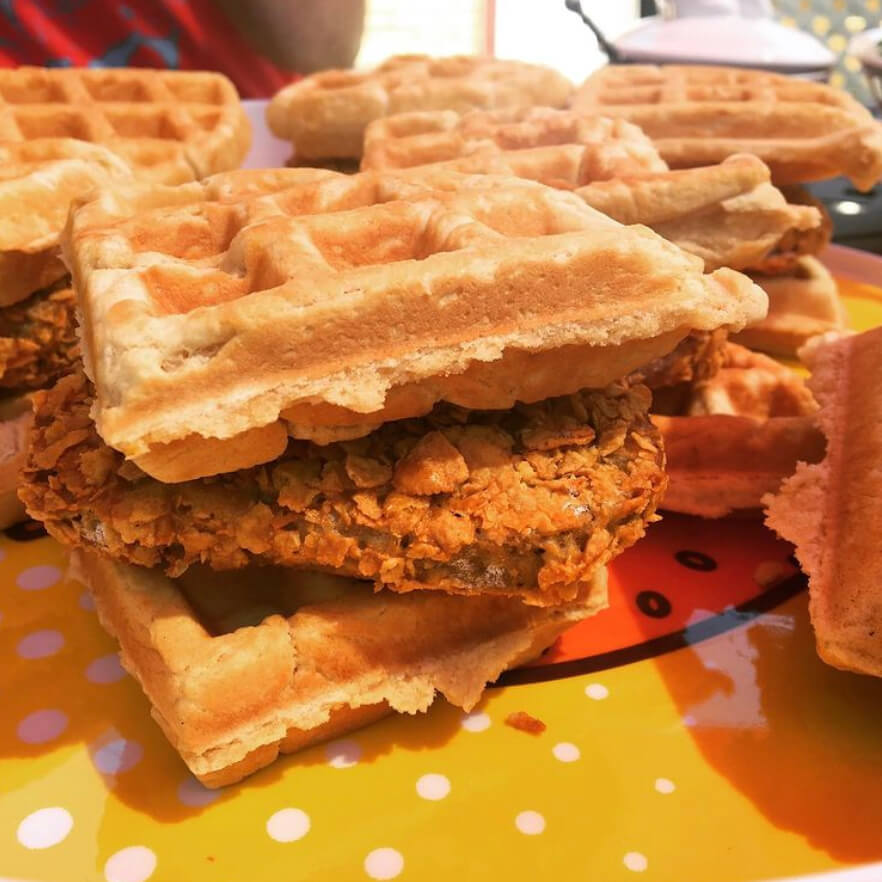 Dearborn
Welcome to the most incredible burger creations that will pamper your eyes and taste buds! Boring vegetable patties are being replaced with homemade patties made from black beans, chickpeas, vegetables, and savory spices. The burgers are piled high with an assortment of delicious toppings like sautéed mushrooms, pineapple, BBQ sauce, and more. Don't miss one of their newest burger creations, the Jamaican Me Crazy! The meatless patty with a Caribbean flavor is topped with grilled pineapple, creamy lime and coriander dressing, shredded crispy kale and cabbage.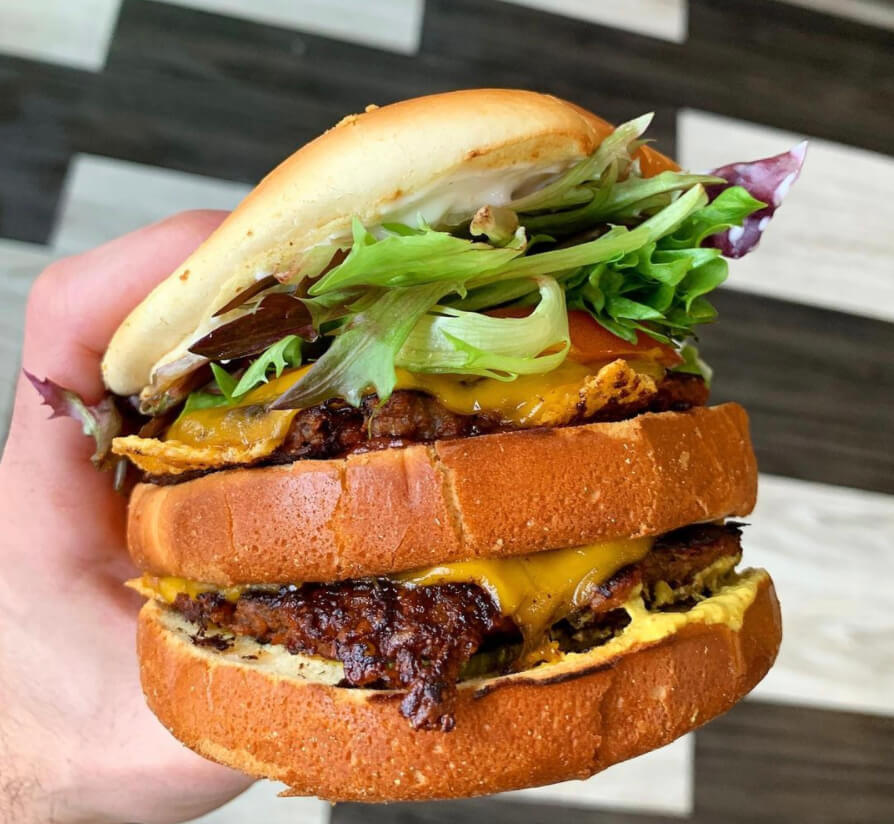 Photo credit: @thevegandetroiter on Instagram