It was way past one in the morning, and we were still in the early stages of our 40-plus hour drive back to Detroit. Somewhere in the dark, along the eerie-white expanse of the Bonneville Salt Flats, where I-80 turns a hard left and cuts arrow-straight, east towards the Great Salt Lake. That was when I finally felt settled in the pilot's chair of Joshua "Bacon" McAninch's 27-foot RV, and started to remember. Images from the previous week flooding back. My first trip to Burning Man.
 
If you have more than a passing familiarity with the annual festival of art and experiment that takes place in the week leading up to Labor Day, you are likely as knowledgeable as I was going into Black Rock City, Nevada, the temporary assembly of upwards of 70,000 people from all over the country, and the world, who make up the participants of Burning Man. Even with extensive research in the weeks preceding, including an unsuccessful effort to commit to memory Burning Man's Ten Principles, nothing can really prepare for setting foot on the playa as a "virgin."
 
For me, it started with a warm "welcome home" by friendly, "burner" greeters at the gate, who meted out heartfelt, enthusiastic hugs, as if we had known each other for years. I was then ordered to strike a gong, scream at the top of my lungs, and drop to the ground for a roll in the playa. Finding my inner child long enough to frolic in the silt of a prehistoric lakebed wasn't too hard. But, even while I made dust angels, in the back of my head, I was also thinking about the $350 penalty for cleaning the rental car if it came back caked in playa.
 
Already, the playa and "playa names" were everywhere.
 
Matt "Uncle Meatball" Naimi of Detroit's Recycle Here and Rachel "Special Needs" Klegon of Green Living Science (home of the Lincoln Street Art Park), invited me to join the "Camp of Broken Toys" during the lead up to this year's Marche du Nain Rouge, which partners with Recycle Here to help support the parade with materials, space, and creative inspiration. Around the same time, I was also graciously invited by the Detroit Regional Contacts for Burning Man, Thaddeus "Brick" McKracken and Danielle "Doxie" Kaltz, to the Tangent Gallery to do a presentation on the Marche du Nain Rouge at the 2015 Great Lakes Burner Symposium. The Tangent crowd seemed very appreciative, and also very welcoming. In fact, the annual symposium is a great way to meet local burners and develop an understanding of burner culture generally. Apparently, people who like Burning Man also like the Marche. I was pleased!
 
I was also intrigued.
 
Not surprisingly, the next thing to do after getting through the gate at Black Rock City, and accepting playa dust into your life, is find your camp. The city is laid out about a month before the festival, with streets in a semicircle, arrayed around a 60-foot-tall "man" effigy, who is ceremoniously set afire at the culmination of the week. The rest of the week, the man serves as a useful visual landmark, especially considering the festival site is spread across seven square miles.
 
On the far side of the man is a large wooden temple (which burns), and a huge open playa scattered with incredible curated art pieces (many burn). Lots of stuff gets burned. Closest to the man is the Esplanade, where some of the larger theme camps are located, as well as Burning Man operations, organized sort of like the municipal departments of a small city: Department of Mutant Vehicles (DMV), Arctica (Ice Sales), Department of Public Works (DPW), Sanitation, and several others.
 
Beyond Esplanade, streets run in concentric circles away from the man in alphabetical order with a series of names, from Arcade to Laughing Sal, related to the festival's theme. This year it was the "Carnival of Mirrors," and you could find a number of funhouse attractions (mazes, games, and yes, mirrors) in the tents and structures immediately adjacent to the man. Perpendicular to the alphabetical streets, numbered streets run clockwise, according to a clock face, from 2 to 10 o'clock.
 
Detroit's Camp of Broken Toys was on the corner of 9:15 and Jolly, only a short distance from the main gate, but a real hike (or bike) to Center Camp and the man. However, I knew the Camp of Broken Toys featured other ways of getting around Black Rock City. And I spied the insect-like antennae on one of the camp's "mutant vehicle" art cars as soon as I turned onto 9:15 off of Kook.

 
This cockroach will run you over.
 
I first met the artist Ryan C. Doyle in early 2014 during the lead up to last year's Marche du Nain Rouge. Doyle wowed Marchers with his huge fire-breathing dragon, Gon KiRin, a collaboration with light artist Teddy Lo. For this year's Marche, Doyle–who was invited to Detroit in 2010 by Power House Productions and Juxtapoz Magazine to work on projects in Banglatown and "fell in love" with Detroit after only two days–went in a completely different direction in scale and symbolism: the cockroach.
 
"As an artist I try to include symbolism and conceptual threads from previous generations. While searching for a symbol of survival, I was given a 2004 Honda Civic. The owners had "totaled" the car three times and it had just fallen victim to a fourth incident. When the "insurance" company refused to continue coverage on a vehicle they had already bought three times, the owners donated it to become an interactive sculpture. The CarCroach popped into my thick skull as a chariot for Detroit's most hated…The Nain Rouge."
 
After a grand unveiling at the Marche, and then plying the streets of Detroit over the past six months, the CarCroach had also made the trip to the playa at Burning Man! It was weirdly comforting to see a giant bug as we pulled up to camp. But it reminded me immediately of Detroit and Doyle and seeing his creation come to life at Recycle Here, thanks also to the hard work and dedication of several other artists and craftspeople, coming together for the parade. Doyle has since become Recycle Here's first Artist in Residence, and Detroit continues to stoke his artistic juices.
 
"There is no city that is more inspiring or fulfilling than the Motor City," he says, "As an interactive machine artist, I am drawn to and study the relationship between society and the Machine. Detroit is the birthplace of the American Industrial Revolution. The police understand me."
 
If the DPD understands Doyle, Doyle recognizes an opportunity for growth and collaboration, as well as how he could engage and elevate the creative energy taking shape at Recycle Here over the past few years.
 
"We never actively sought out artists to be a part of the Recycle Here project," says Matt Naimi, Recycle Here's founder and director of operations, "Doyle was attracted to us, and many artists have followed. And after working with us on a few projects, he introduced us to Burning Man."
 
"We have found that artists work very well inside of our collective project," continues Rachel Klegon, executive director at Green Living Science, and partner 'in crime' to Naimi. "Holden Street is a hive of creative energy and filled with resources… resources for artists that began as waste or junk to someone else."
To me, this is the beautiful message in what may seem like an off-putting image of a junked-car-turned-cockroach made up of Detroit's detritus. There's still life here. We're still kicking. In fact, "Detroitus" is the name of Doyle's work in Detroit. And, like the thousands who came out for this year's Marche du Nain Rouge, burners in Black Rock City understood the message, and loved to see the cockroach every time it ventured out from the Camp of Broken Toys. Especially when the cockroach was blaring its classic hip-hop playlist, and, like the Pied Piper, enticed head bopping burners from all corners of Black Rock City to dance along with Snoop and Tupac. "All Eyez on Me."
 
Enter Scrubby, and disco-hip-hop till dawn.
 
Part of the Burning Man experience is to simply bear witness to the hundreds of art cars that make their way to the desert each year, and must be officially registered by the Department of Mutant Vehicles to drive onto the playa. The range of offering and creative endeavor is incredible. From human powered pedal contraptions, seating four, to huge military vehicles and busses that have been retrofitted with multiple seating/standing platforms, and decked out in all manner of design and decoration, sometimes costing millions. Instead of attempting any further description, let me Google that for you. Search the images and you will get what I'm talking about. You will probably find Gon KiRin, the dragon. In the coming weeks and months, you'll likely see the CarCroach.
 
And no doubt, you'll soon see images of "Scrubby," another art car at our camp. Scrubby is the brainchild of Eddy Bullock, whose partner, Gillian Bentley, was also an instrumental supporter in the process of bringing the project to life. After attending his first burn last year with Bentley, Bullock knew that he wanted to build an art car.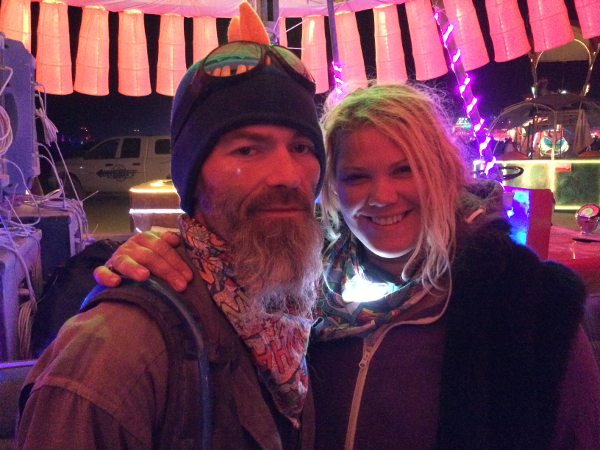 Eddy and Gillian under Scrubby
 
"I had seen what was out at Burning Man and had a pretty good idea of what it would take," recalls Bullock. "I just wanted something completely ridiculous, so I bounced at least 100 ideas off of Gill as we were driving home last year."
 
Bentley remembers the "aha" moment fondly, "I just started smiling when Ed said 'Scrubbing Bubble' last year," she says. This year, the sentiment came full circle. "When we were driving back from the DMV the first night, people would walk up to the street from their camps to take pictures while others would applaud while we passed," Bentley continues, "I looked over at Ed and he just had the biggest grin on his face. In that moment he was just so happy that others were happy and that meant everything to me."
 
It's true; there is something intoxicating about Scrubby when you see him for the first time, with his huge eyes and eager-to-please expression. Why not give people another reason to smile? Scrubby is literally a larger than life manifestation of the popular animated Scrubbing Bubbles characters that foment a gleefully helpful bubble army out of cleaning solution to wipe away the most offensive bathroom grime and odor. Why not attach classic car bench seats to Scrubby's port and starboard sides? That way Scrubby can always travel with up to ten of his friends. And while we're at it, why not rig Scrubby with an amazing PA system, with four large concert speakers and two huge subwoofers blasting mind-blowing disco mixes from Greg Wilson and Al Kent's Million Dollar Disco. Scrubby inspired a spontaneous dance party everywhere he went.
 
Making Scrubby go is a vintage 1950s-era mini fire truck that had been designed for the floor of a Pontiac factory. Bullock's dad collects fire related vehicles and Bullock knew that this would be the perfect as the base of Scrubby. But it wasn't easy. It took Bullock the better part of the last year to design and build Scrubby at his family's shop on 8 Mile and John R in his spare time, where he first started experimenting with creating metal art objects in 2008. Scrubby's impressive dome, face, and bristles are finely shaped wire and metal scaffold that Bullock expertly hung from a central motorized support that allows Scrubby to extend over his riders, much like an open umbrella. Scrubby's "skin" is specially cut, fitted, and sewn fabric that friends Cate Parker and Andrea Doyle helped design and finish.
 
"I can't even guess [how many hours went into the project]. Way too many for any sane person to put in," says Bullock, "Probably…a thousand. I try to keep a very high quality in the things I make, if that means cutting your losses and starting something over from scratch, that's how I operate…for me, it was about the experience that we, collectively, all shared out there."
 
For Bullock and Bentley, some of their best moments of this year's Burning Man were spent together on Scrubby, once all alone, when it was just the two of them in a dust storm, or when Bullock gave up the reins and Bentley "learned how to drive a stick shift again." Later that night, Bullock remembers, he gave a ride to some strangers who had just locked their bikes, needed a ride, and really wanted to hang with Scrubby. "Long story short," says Bullock, "we ended up dropping them back off at their bikes at about 11 a.m., after a Mayan Warrior sunrise party. They had been with us for probably eight hours."
 
"Detroit is Burning Man"
 
I relate to Ed and Gill, as well as the others at the Camp of Broken Toys, who I know can tell similar stories. There are so many unique experiences that make up a trip to Burning Man. The art cars are just one, small lens, and I'm not more than mentioning the other "toys" associated with our camp, like Truckee, a modified former NYPD traffic enforcement vehicle, featuring the playa's biggest flame thrower, or the "Regurgitator" at the trash fence, best witnessed at sunrise as it scrambles the brains of its riders.
 
Burning Man is a challenging life event to process, with social norms tested, and an overload of creative expression everywhere, all at once, and at all times. Our first night on the playa, with millions of LED lights, sounds, and humanity in every direction was truly overwhelming. Believe it or not, there are even "decompression" events, which help connect burners to each other as they make the transition back to the "Default World," where we apparently live most of the time. At the same time, Burning Man is also personal, quiet, and contemplative. It really feels like a magical place, where anything can happen, and anyone is welcome, if you can get there.
 
I can actually see Detroit's connection to Burning Man (and its worldwide network of burners) growing even stronger in the coming years. I believe there's an opportunity, especially through building up existing Detroit events, such as the symposium, the recent Detroit Design Fest, the Marche, Theatre Bizarre, and maker faires, as well as a further and deeper engagement of Detroiters, especially curious African Americans, and supporting our creative community overall, at places like Lincoln Street, Caribbean Mardi Gras Productions, and OmniCorpsDetroit, just to name a few.
 
Matt Naimi sums it up well:
 
"While Detroit isn't a desert, Detroiters are adept at making things work in hostile conditions, using our heads to solve problems, basically getting the job done no matter what. Our camp this year focused on a few major art projects that we set up for others to enjoy…Dangerous art. Art cars. Flamethrowers…. In a way, Burning Man is a larger version of what we already create here. Burning Man exists for a month each year, and is a full blown city for only 8 days…We see that the people who are attracted to Burning Man are fascinated by Detroit…and many are looking at Detroit as a place to go to use their Burning Man attitude all year long.
 
Apparently, the Burning Man organization is looking at ways to further expand its message into cities such as Detroit, especially as the annual pilgrimage to Black Rock City pushes its capacity. Naimi says that Burning Man leadership sees what is going on in Detroit as a prime example of how to sustain and grow the creative, individual and community-minded philosophy of the Burning Man culture, and make it an inspirational part of everyday life. For "Uncle Meatball" (Naimi) and "Special Needs" (Klegon), and a growing host of others, that leap is already part of their daily existence, "We will continue to support individuals who are looking to make a difference in our community…" Klegon says. "and we will continue to build crazy, dangerous, fun shit," adds Naimi.
 
As Detroit remakes itself post-bankruptcy, we need to integrate a different approach, and different ways of life into our everyday. I may be crazy, but the little money I have is on the creatives who want live a little, and who can make something out of nothing.
Francis Grunow is a Detroit-based writer and a longtime Model D contributor.
 
Regurgitator video thanks to Eric Rush.