T.he Mexican-American Detroit's diaspora dates back more than a century when Mexicans, like other migrant communities, moved here to witness the city's early industrial boom. Much of the population is concentrated in the southwest of the city Side, but also downriver and in Pontiac, and out-state in pockets of Grand Rapids and Lansing. The growth of the community also reflects immigration policies. With the adoption of the Bracero program, thousands of Mexican farm workers were "imported" to do manual labor during World War II. Permission was granted to immigrants who were not legally resident in the country in the 1980s, and in the 1990s of the NAFTA era, when thousands more emigrated to the United States in search of living wages, they had to apply en masse for legal status . These waves of migration have resulted in a diverse mix of communities from across Mexico, particularly from the state of Jalisco. In fact, the population of Jaliscense is so concentrated that many residents come from the same villages in the highlands of this state.
The diversity is easy to spot in the shop windows that line the Vernor Highway, one of the main roads in southwest Detroit, with signs for Arandas (a pueblo in Jalisco). the Pacific coastal region of Nayarit; the northern Mexican states of Chihuahua, Sinaloa and Durango, the southernmost state of Oaxaca; and the longtime Chicano Detroiters whose families have been here for generations. The result is a rich tapestry of culinary styles, music, art, and local traditions.
A lowrider thrills a young admirer during the Cinco de Mayo. // Photo by Gerard + Belevender
Do not miss
One of the most visible reminders that you are in southwest Detroit are the murals. Murals have a rich tradition in Mexican-American culture, the roots of which go back centuries to pre-Hispanic Mexico. During the 1960s and 1970s, the Chicano Wall Movement served as a platform for political and social equality with colorful and complex scenes depicting the deep history of Mexican Americans in that country. Today, dozens of murals cover the brick walls of local businesses and viaducts across the neighborhood. On St. Anne and Bagley you can find longtime works like "Cornfield," painted by Vito Valdez and "City spirit" across the street and painted by Martin Moreno and George Vargas in 1979. Other works by a younger generation – like Freddy Diaz, also known as SW Freddy – can be seen outside and inside by dozens of local businesses.
Speaking of murals: One of the most famous Mexican murals in Detroit takes up four gigantic walls in the halls of the Detroit Institute of Arts. The Mexican mural painter Diego Rivera was commissioned with the production by Edsel Ford during the Great Depression "Detroit Industry" a fresco-style installation in the DIA's Garden Court. The painting is comprised of 27 different paintings depicting the history of Detroit through the lens of workers working at Ford Motor Co.'s River Rouge facility, as well as advances in scientific fields such as medicine and emerging technology.
One of the most popular attractions in Southwest Detroit each year is the annual Cinco de Mayo Parade, a staple of the community for more than half a century. The parade, which takes place between Clark Park and Patton Park, is marked by days of festivities, including pub and restaurant crawls, wall tours, baile folklorico (traditional dance), live music, and that Blessing of the Lowriders, a street shop window with decorated classic lowrider cars that are usually taken out of the shelter for special occasions.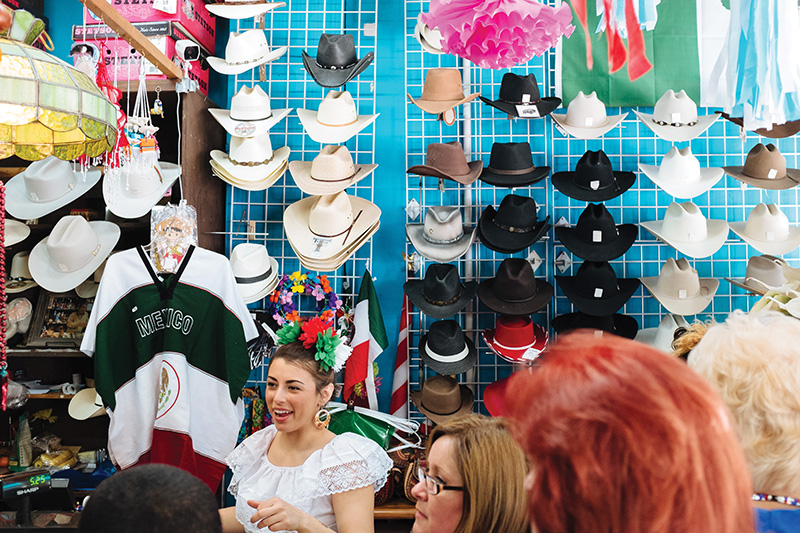 Xochi's gift shop is a must-see for traditional Mexican folk art, ceramics, and Dia de los Muertos merchandise. // Photo by Gerard + Belevender
The only true
Xochi's gift shop on Bagley is a 30-year-old establishment that shoppers could get lost in for hours. The family-owned shop specializes in Mexican imports, offering handcrafted Mexican folk art, extravagantly painted ceramics, artwork by Dia de los Muertos, sterling silver jewelry, and western clothing. It doesn't matter whether you're tapping into your Mexican roots or looking forward to a new recipe while reading TikTok: Something special, also on Bagley, is the place to go for those hard-to-find ingredients. Epazote for the Oaxacan recipe for tamales? Check. Flor de Calabaza (Pumpkin Flower)? You have it. Dried chili peppers of all kinds? Check the partner. Guadalajara butcher shop on Lawndale is a meat lover's paradise or especially a destination for people looking for exactly what they need for the backyard carne asada (cookout). The shop produces chorizo, chicken fajitas, and Arrachera-style marinated rock steak, perfect when smashed into a grilled tortilla, as well as a round of chelas (beers).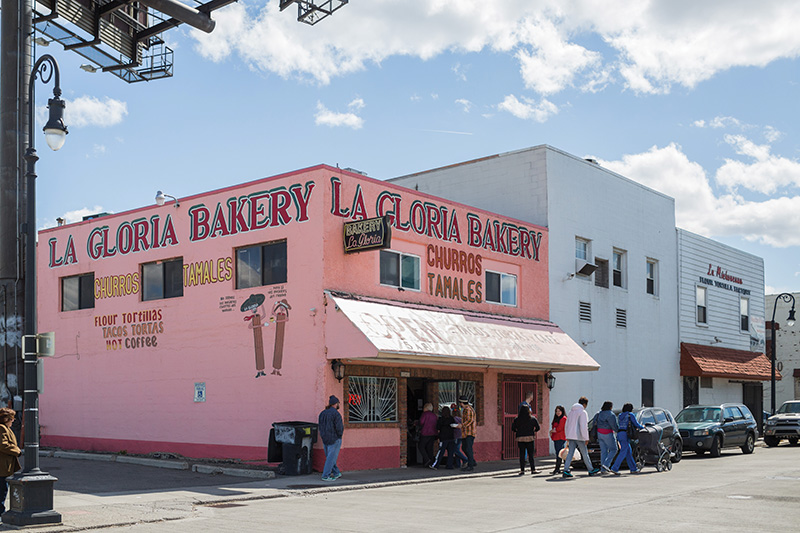 Traditional Mexican sweets can be found at La Gloria Bakery. // Photo by Gerard + Belevender
Tastes good
When it comes to food, southwest Detroit is arguably the city's largest culinary destination. The Loncheria El Parian The taco truck fleet has set up its trailers at six locations in the neighborhood and is also in operation La Palapa del Parian, a stationary location in Lawndale. Customers from all walks of life line up during the lunch break every day to grab a paper plate of tacos al pastor (marinated pork that is roasted on a spit), tacos de campechano (charred pieces of carne asada and chorizo), meaty quesadillas, tortas. or burritos. The restaurant also has a full bar and a selection of margaritas and chic micheladas (a type of beer and clamato called "Bloody Mary" that is usually served in an oversized mug with a few upside-down Corona bottles). In many places there is a Jalisco specialty called birria, a meat marinated with chilli and citrus (usually beef or goat meat) that is slowly cooked until the tender pieces can melt in your mouth: The big ones, The terrace, Tacos El Primo, The sergeantand a growing number of other places. It is traditionally served on its own as a dish or soup, in tacos or as a quesabirria, a grilled corn tortilla filled with birria and melting cheese until crispy. Those with a sweet tooth should go too Mexicantown Bakery on Vernor, The fame on Bagley or Sheila's Bakery on springwells for freshly baked conchas, churros or Pastell de Tres Leches (three-milk cakes). Beat on hot summer days Neveria Michoacana or Raspados and Bishops La Niña for paletas (Mexican popsicles made from fresh fruit and ice cream or milk), raspberries (shaved ice with fruit flavor) and aguas frescas (refreshing drinks made from fruit, flowers)
like hibiscus or rice).
Did you know already?
Southwest Detroit, close to Tigers Stadium, has historically been a popular area for both sports fans and Tigers players. Fans could visit any number of Mexican restaurants for snacks after the games – dishes like botana, a delicacy made from fried tortilla chips, bean and chorizo ​​mix, onions, sliced ​​avocado, green peppers, tomatoes and jalapeños, and a mountain of melted ones Munster cheese. Armando's on Vernor in particular was a legendary meeting place for the players after the match day. When the Tigers won the World Series in 1984, the original owner of the restaurant, Armando Galan, hosted the team, locked the doors and partied all night.
page
Excursion
Detroit's Mexicantown is increasingly home to a growing Central American community. While cultural landmarks or public sights that represent this region are not in the foreground, some restaurants have made their way into this section. Pupusería and Salvadoran restaurant on Livernois is probably the most famous place to eat to this day. The specialty there is pupusa, one of the most popular dishes in El Salvador, made from a thick corn- or rice-based tortilla that is abundantly filled with any combination of pork, beans, cheese or loroco (a flower typical of Central America) is. It is usually topped with curtido, a fermented cabbage relish, and a tomato-based salsa. Honduran restaurant Antojitos el Catracho
is another casual eatery where you can find dolls, but also pastellitos, Honduran-style baleadas, and Banana Tropical, a traditional Honduran lemonade. In Troy The guanaco,
A small restaurant and grocery store on Livernois is another popular destination for high school students, selling Salvadoran-style tamales (wrapped in banana leaves instead of corn husks) and Mexican food.