Architecture
Five of the greatest modern buildings in Metro Detroit
Michigan is getting nowhere near the credit it should get for its contributions to modernist architecture. However, a recent book on Michigan's illustrious design history is a compelling case.
We asked one of the book's editors to list his favorite modern buildings in Metro Detroit.
As a state conservationist, I support Michigan's importance in the world of design every day. Our state has made tremendous contributions in this area, from architecture to automobiles to furniture and boats, as well as from our major design education facilities.
When asked to identify my five favorite modern buildings in Metro Detroit, I was presented with an almost impossible task. Metro Detroit is so rich in modernist architecture that it's difficult to spot just a few.
Even so, I accepted the challenge, but made my job easier by focusing on buildings designed by Michigan architects. So here are my five favorite buildings (with reservations) in Metro Detroit.
The Cranbrook Educational Community

Located in Bloomfield Hills, Cranbrook is considered the cradle of American modernism, which has influenced architecture, furniture, design and art. It is impossible to overestimate the importance of school.
The beautiful campus and early buildings were designed by Eliel Saarinen, one of the pioneering architects of the time. The entire campus, all fourteen buildings, is a national historic landmark.
General Motors Technical Center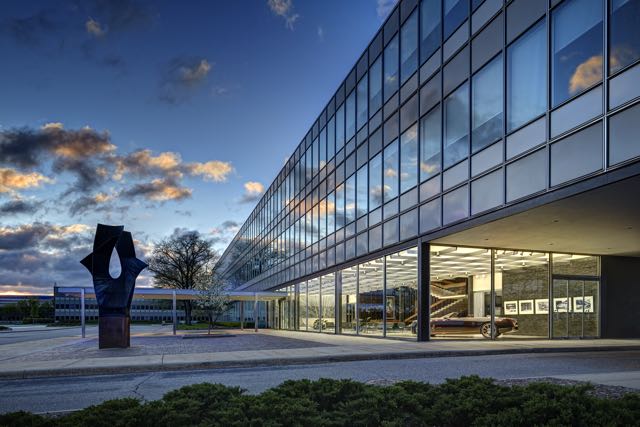 The remarkable company campus, designed by Eero Saarinen, son of Cranbrook designer Eliel Saarinen, shows complete design cohesion. Almost everything, from doors to floor plans to the central lake, corresponds to the same modular relationship.
Saarinen also commissioned some stunning works of art and designs, such as the spiral staircase in the Research and Design Administration Building, where each of its massive panels appears to defy the laws of physics.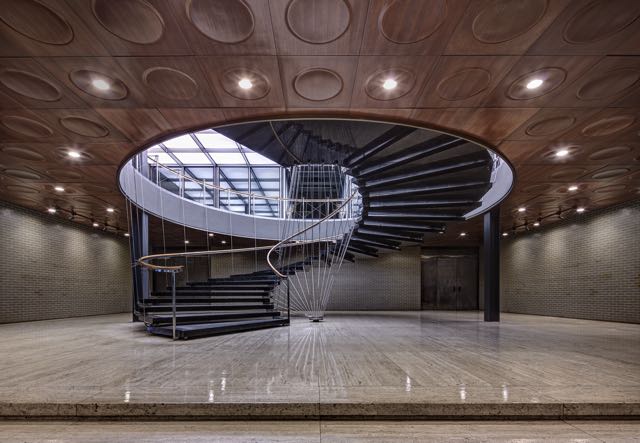 Spiral staircase in the tech center

There's a lot more to be said about the Tech Center, which can accommodate 20,000 employees and has a long history of design premieres in the automotive world. Officially opened in 1956, the historic campus was recognized as a National Historic Landmark in 2014.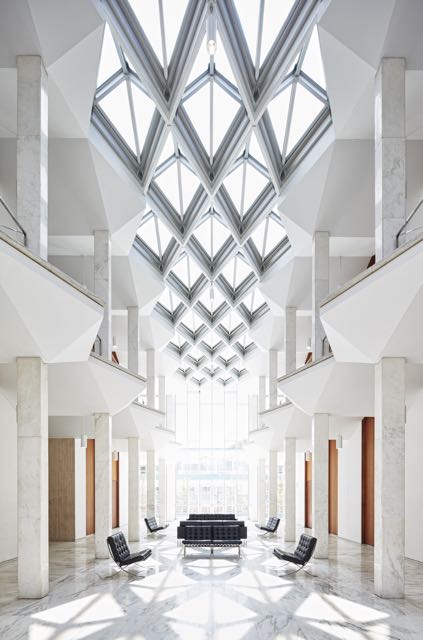 Interior of the McGregor Conference Center
The McGregor Memorial Conference Center
Located on the Wayne State University campus in Detroit, the McGregor Memorial Conference Center is a gem designed by Minoru Yamasaki. one of America's most important modern architects. It was built in 1958 and was the first of four buildings he designed for the school.
The sculpture garden and pool are almost as famous as the building itself. What really says something, given the main hallway with pyramid-shaped skylights, was a real innovation for its time.
Along with the restored water basin, it is also a national historical landmark.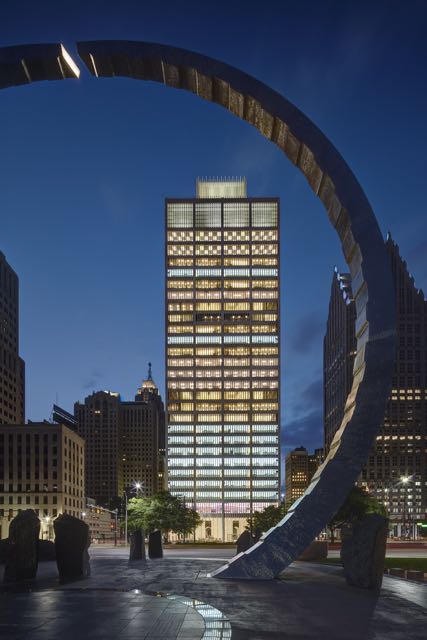 One Woodward Avenue
The Michigan Consolidated Gas Building, also known as One Woodward Avenue, was also designed by Minoru Yamasaki and built in 1962. The 32-story steel-framed skyscraper occupies a prominent place in the Detroit skyline. The facade is made up of a series of repeating bays and pillars, and the windows on the top floors are only 30 cm.
Also noteworthy is the gleaming lobby, which is surrounded by 82 panes of glass and columns, stairs, and white marble floors.
W. Hawkins Ferry House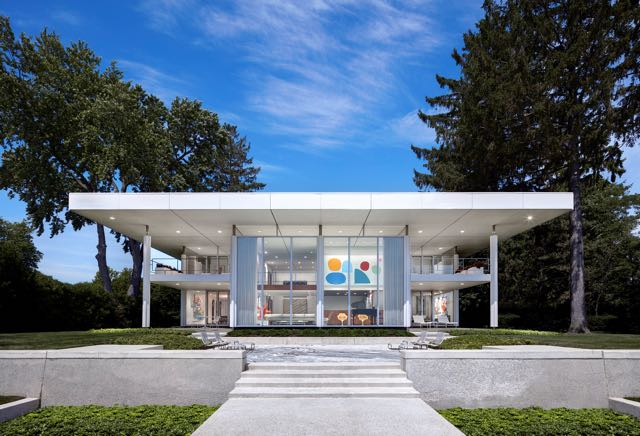 Exterior view of the Hawkins Ferry House
While it's the least known building on the list, the W. Hawkins Ferry House in Grosse Pointe Shores is testament to the beauty of William Kessler's designs.
The house was built in 1964 for William Hawkins Ferry, who was visiting Cranbrook and possibly developing his appreciation for modern art and architecture. Over the years, Ferry gathered a huge art collection and asked Kessler to design a gallery-like, open floor plan for his house. The large windows also take advantage of the great view from Lake St. Claire.
"Michigan Modern: Design That Shaped America," published by Gibbs Smith, is a collection of scholarly essays on the importance of Michigan's design industry. It is available in bookstores and on-line.
All photos by James Haefner, courtesy of the Michigan State Historic Preservation Office.