Food And Drinks
New food and coffee projects to boost Detroit's North End rebound after COVID-19
Steven Harris will be the first to admit the challenges COVID-19 has posed for his team and industry, but this won't stop his next project. The architect, developer, and owner of Rebound Construction was involved in much of the work in Detroit's North End and has seen first hand the impact the pandemic has had on Detroit's construction business.
"It's been a tough year," says Harris.
"A lot of the rebound projects have been put on hold, a few people caught COVID-19, clients and clients have been closed, and funding has been diverted to COVID-19 projects," he says. "Material prices have also risen, which has had an enormous impact on our business results."
Harris primarily employs contractors and subcontractors, and says that with few employees he has not been able to take on many of the Paycheck Protection Program (PPP) loans, and while capital was available, he wishes it was "more realistically accessible "Would" For small businesses.
"I had to let my senior project manager go," he says. "Now I am in the field a lot. Over the next few months we will do everything we can to pursue new projects and hopefully bring people back, bring employees back and mobilize them again. "
Harris is also behind the Cocoon Detroit coworking space, a location on East Grand Boulevard that opened in 2019 and was booming before the COVID-19 hit. It's a similar concept to other collaborative spaces in the city like WeWork, TechTown, and Bamboo, but with a heavy focus on architects, brokers, and builders, which often results in network partnerships emerging under one roof.
"It's not exclusive to minority business owners," says Harris. "But a lot of businesses are minority owned, it's a way to support them."
In light of the pandemic, LISC Detroit's grant support meant that Harris could continue to pay for the lease at its East Grand Boulevard business after the co-working hub went from 95% to 25% occupancy. during the worst crisis.
Steven Harris welcomes changes to a John R. location he is helping develop on John R. Street.
Despite the challenges, Harris has some big plans for this year and good reasons to be excited. He is particularly confident that further redevelopment can be made on a commercial property on John R Street that has managed to remain "largely active" throughout the pandemic.
The revitalized room is home to the Transformation Barber Shop and the organic Pink Elephant Products that survived the pandemic. Harris said other stores like Stef-n-Ty's hat shop have closed permanently due to the effects of COVID-19. Harris describes the closings as a "huge loss to the community" but has several new projects on the way this year, including a smoked fish house, a coffee shop called Black Coffee, and a restaurant called Rosemary Cafe.
Working with Emily Steffens, owner of The Gathering Coffee Co., Harris says the plan for Black Coffee is in safe hands thanks to her local insights and skills.
"She was the coffee advisor and is great," says Harris. "She's a very knowledgeable barista."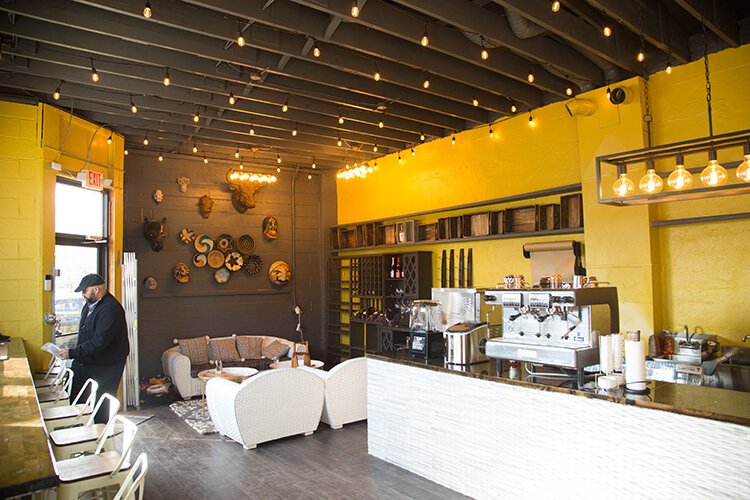 Steven Harris partners with Emily Steffens of The Gathering Coffee Co. to open Black Coffee.
Steffens says black coffee will have a light decor and involve the work of other local business owners.
"Steve [Harris]The heart is wholeheartedly for the community and serves them as best as possible in terms of service, space and product, "says Steffens." It's my passion for my own shop. But with Black Coffee, Steve allows me to be by his side in the space he created to bring culture and art together and provide an experience for people made by others in the community to ensure that they go hand in hand this shop too. "
Both the café and the café will use the existing space, but will also expand with the help of shipping containers. Harris hopes other "mom and pop" businesses can gain a foothold. The decor will be a familiar setting for Chef Maxcel "Max" Hardy of Coop at Detroit Shipping Co., with whom Harris is working to develop the Rosemary Cafe.
Hardy, the chef behind Coop's Caribbean Fusion Stand and Jed's Detroit, published a range of condiments last year, published a cookbook, and was recently named "Restaurateur of the Year" by Hour Detroit magazine. He says Harris' work is important.
"You can tell he's choosing his new business by offering opportunities to the community," says Hardy. "This new location was an area that needed love, so we're bringing our expertise to the location. The north end is a hot area with great people. So to see your vision is great."
Harris predicts a major reopening of the entire center in June or July and hopes the project will attract not only the surrounding neighborhood but also visitors from nearby areas like Boston Edison.
"We're also creating an art park sponsored by DTE [Energy]"Says Harris." There were some great artists in the neighborhood hired to do artwork. I think when June rolls around you'll see a really cool outdoor space with live jazz bands, events, and common areas. "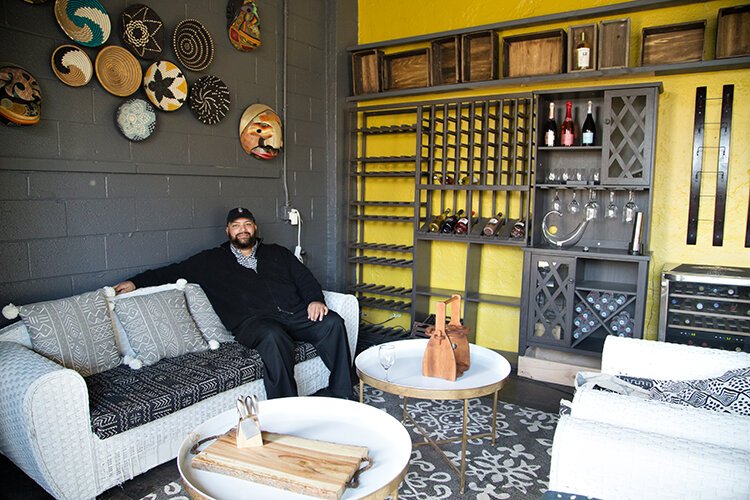 This is part of a LISC Detroit sponsored series that chronicles the journey of small businesses in Detroit in response to the COVID-19 pandemic.