Last year when we profiled 10 of the most interesting homes in Detroit, we asked you to send us emails, comments, or tweets for more suggestions. If we got enough we would make a second list.
Thanks to you we got more than enough.
Since so many of these homes were built in the 19th century or for important and historical figures from Detroit, we also spoke to Jonathan Peters, a historian, photographer, and tour guide at Pure Detroit for more background information. Be sure to check out his blog on Detroit architecture, Love in the D.
Without further ado, here are nine other interesting Detroit homes.
1. The Brooks Barron Residence in Palmer Woods
Minoru Yamasaki, better known for his incredible public buildings like One Woodward Avenue in Detroit, designed several private homes. One of these is the modernist house in Palmer Woods, built in 1953.
It is impossible to enjoy its beauty from the street. Perhaps the most interesting feature is the integration of inside and outside. A patio with a pond is located on a covered walkway between parts of the house. Large windows and skylights let in lots of light. There is also a rock garden and a large garden on the premises.
The Barrons were art collectors, even owned an Andy Warhol piece, and wanted the house to add to their collection. According to Michigan Modern, when a New York art critic visited the house, he wrote "Both Yamasaki's vision and barrons taste to create a rare environment in which art and architecture harmonize rather than compete".
2. Marvin Stanton Home in the Joseph Berry Subdivision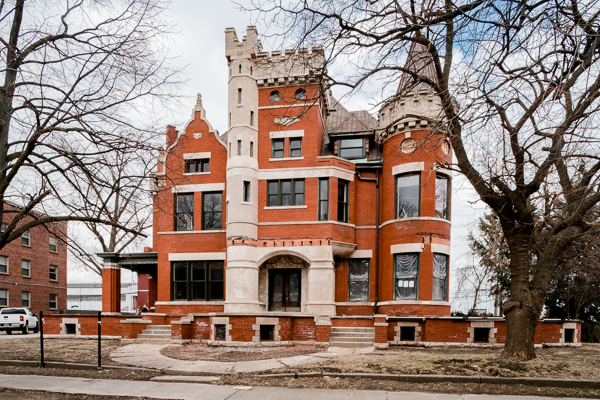 His nickname is "The Castle" and it's easy to see why.
Marvin Stanton was a Detroit apparel maker who clearly had a flair. His house, designed by the renowned architect Louis Kamper, known in Detroit for the Book Cadillac, was completed in the late 1890s. It was the first in what is now the Joseph Berry Subdivision, which also houses the Manoogian Mansion, which is now the richest neighborhood in Detroit.
The mansion shares many features of a castle, such as crenellated towers. There are 12 castle-like chimneys within its 13,500-square-meter walls. Its back yard connects to what is now the Stanton Canal, which flows into the Detroit River.
3. Lawrence Fisher House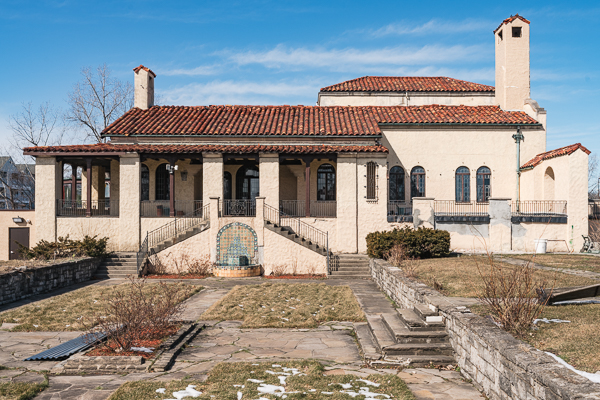 Everything about this mansion, which was built in the 1920s as the residence of Lawrence Peter Fisher, a member of the Fisher Body automotive family, is unusual. It was designed by the famous theater architect C. Howard Crane and has incorporated elements of Art Deco, the Spanish revival and the Mediterranean into the outdoor and individual spaces.
"If the house is a clue," says Peters, "he was the most extravagant of the Fisher brothers."
Detroit 1701, a Detroit history blog, notes that the mansion has only two bedrooms, despite its size of over 22,000 square feet and four acres of gardens. "At one point, 200 craftsmen were used to build this house, many of whom were apparently brought from Europe for this purpose. The master bathroom is made of lapis blue Pewabic tile. 75 ounces of gold and 140 ounces of silver were used in the interior."
Even more peculiar, the mansion became, and still is, a Hare Krishna temple after its donation to society in 1975.
4. Kind Modern House in the East English Village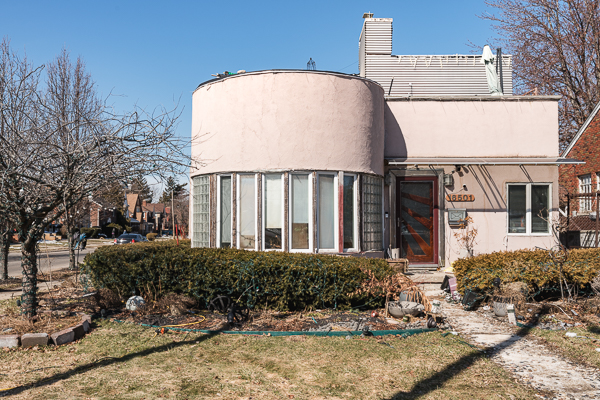 With its stucco paneling and pastel color scheme, this house on East Outer Drive looks like it belongs more to Miami than Detroit. Like the Brothers of Art Moderne featured in our last list, it is also distinguished by its curved shapes.
5. Charles Lang Freer House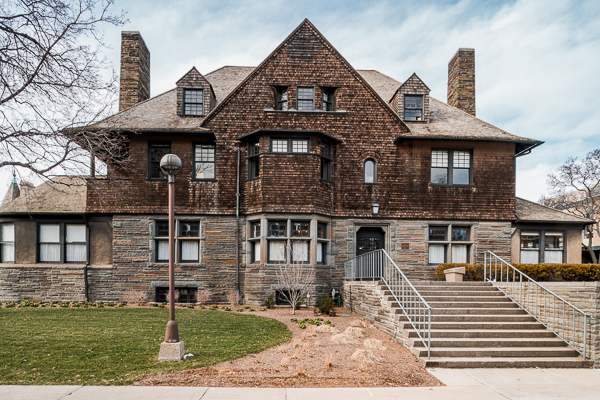 The railway magnate Charles Lang Freer led a fascinating life. Although originally from New York, he moved to Detroit in 1885 and founded the Peninsular Car Company, which he made his fortune. He was a friend and patron of James McNeill Whistler, had one of the largest private collections of Eastern art in the United States, and built a splendid house on Ferry Street.
Described by the National Register of Historic Places as a "Masterpiece of American Shingle-Style Architecture," the Wilson Eyre-designed house was completed in 1892. The exterior of the first floor is limestone, the second and second on the third floor are Michigan oak shingles.
The carriage house contained "The Peacock Room", a decorative mural masterpiece that is characterized by its Japanese influence and the use of gold leaf. After Freer's death, this work, along with the rest of his collection, was donated to create the Freer Gallery of Art at the Smithsonian in Washington, DC
6. Moses Field House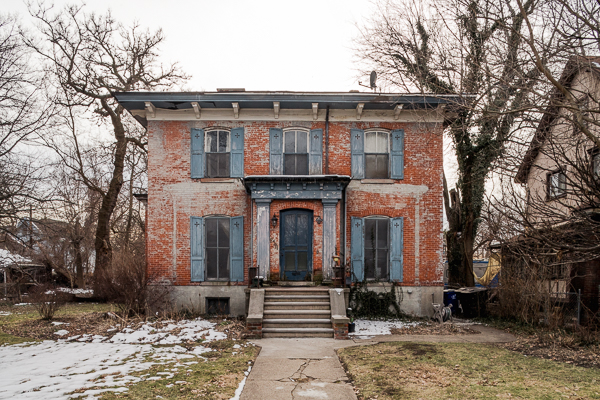 From the outside, not much is noticeable about this house. But its history and owner deserve to be included on this list.
"Mr. Field had his hands in many different glasses," says Peters.
He was a major landowner who owned much of the property around this house and the Springwells neighborhood. So much so that one cross street, Kercheval, is his wife's maiden name and the other, Agnes, is named after his daughter. He also built Detroit's first public drinking fountain, served his district in Congress for two years, and was the first president of the Michigan Society Against the Cruelty of Animals.
His Italian villa style house was built in the late 1860s. "It's way back from the road," says Peters, "which points to when it was built when the area was still farmland."
7. James Smith Farmhouse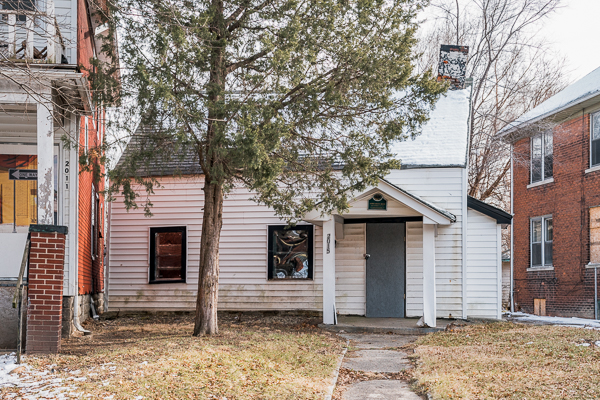 To Detroit 1701
"This is one of the most unusual and seemingly misleading historical sites you will find in Detroit." That's because the aluminum siding hides Detroit's second oldest surviving house.
Essentially a log cabin, it was built by James Smith, a farmer, in 1830, long before the area was annexed to the city of Detroit. There are some clues as to the age of the house, including its odd angle relative to its neighbors and the uneven bricks from the chimney sticking out of the siding.
John Carlisle wrote of the farmhouse in a 2016 article for the Detroit Free Press: "Unlike Detroit's officially oldest home, the well-preserved Trowbridge House on Jefferson, built in 1826, the James Smith Farmhouse has never gone through a series of precautionary measures Owners who tried to preserve it never praised its architecture and did not enjoy a highly visible location near the city center, which drew people's attention to its historical significance. "
Since then, Preservation Detroit has hired volunteers to help clean up the house. It's also in the registry of Michigan Historic Places.
8. Grandmont Rosedale Home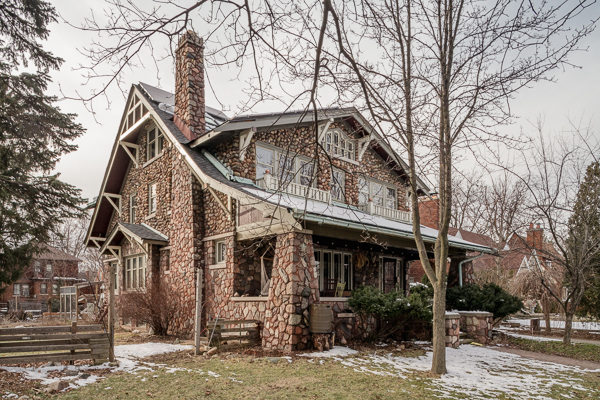 We love all of the little details of this 1922 Arts & Crafts style home in Grandmont Rosedale, like the stone facade, wooded courtyard, and its rustic, almost fairytale aesthetic. The house wouldn't be out of place in Middle-earth.
According to the current owner, the original owners were a married couple who adopted 13 foster children who apparently started more than one house fire. There is currently a wood stove in the yard that used to be an incinerator and a chimney in the garage.
The owner, who is a potter and has other artist tenants, wanted the house to be a residence for artists, largely due to his incredible craftsmanship. "The residence emerged from the architecture of the house," he says. "I believe that living in spaces that require a lot of amazement encourages creativity."
9. Tombstone House on Evergreen Road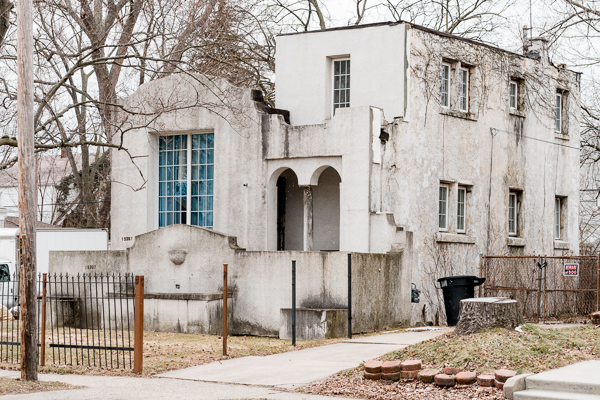 The facade looks like a tombstone … Sorry, that's all we have!
We just let the picture speak for itself. (Seriously, if you have any more information on this house please let us know.)
Do you have any suggestions for more interesting Detroit homes? Comment below or tweet us @modeld. If there's enough we'll do part 3!
All photos by Nick Hagen.