Lifestyle
The three quiet kings of Detroit's music scene
The easiest part of the "interview" with Greg Baise, Joel Peterson, and Adriel Thornton – three gifted Detroit promoters of underground and (slightly) above-ground cultural events from the early 1990s to the present day – is to just turn on the recorder and keep yours Mouth (mostly) closed.
Two hours later they are still talking, exchanging stories, and laughing. Where do the decades go when you have too much fun? No, it wasn't that difficult. But two hours, as it turns out, is nowhere near enough time.
The hardest part? Bringing these busy people together in the middle of the afternoon in the middle of an insanely busy month. But we did manage to have a coffee at Trinosophes, the café Peterson owns and works with Rebecca Mazzei on the edge of the Eastern Market.
You might feel like some kind of troll just to be in their company. Other than having been with them before, deep on a strangely beautiful night in Detroit, you could often be around but usually at a respectful distance while doing the enterprising things that they do.
You are at the table. Milky rays of sunshine pour into the room from the windows on Gratiot Avenue. The conversation started without being asked. You push a button.
"Are you recording that?" Greg Baise asks, noticing and, according to his memory skills, will probably remember that moment in 20 years. And we're gone.
"A fruitful time"
That story begins in 1992, maybe 1993. The group shifts to Baise, who takes the lead in getting dates and locations for events that he began promoting and producing.
Greg Baise"That was a fruitful time when I did my first shows," says Baise, now curator for public programs at the Museum of Contemporary Art Detroit (MOCAD). He was also a talent buyer for the Majestic Theater Center and Crofoot in Pontiac.
These shows took place in the Michigan Room on Union Street (New Zealand art rockers Peter Jeffries and Alastair Galbraith) and the Epic Soundtracks and Outrageous Cherry in the Rhythm Room in Hamtramck (now an art room in the public swimming pool on Caniff Avenue). They were, in fact, in 1993.
Peterson and Baise say they might have met earlier in another alternative Hamtramck performance space, the Masque Gallery, on the second floor of a building on the corner of Jos. Campau and Caniff.
"That was in 1992," says Baise. "That same year, Shadowbox (a café / performance room that housed Grant McLennan from Australian group The Go-Betweens, among others) opened around the corner."
"Or it was in Rabbles (a coffee / performance venue on Harper Avenue in St. Clair Shores)," says Peterson. "I was 19."
"You're tripping over your memories, hahaha," says Thornton. "I'm so happy when I hear that people are mentally archiving themselves. Just don't ask me how old I was, hahaha."
How old were you?
"I'll tell you, but it can never be printed, hahaha," says Thornton.
Peterson says he started out on the Detroit music scene when he was at Grosse Pointe South in high school. At the age of 16 he was in music stores on the east side and played in bands. He was a founding member of the Immigrant Suns, the Scavenger Quartet and the Odu Afrobeat Orchestra, and has worked with jazz-rock artists from around the world. Peterson received a Kresge Arts Fellowship in 2010.
As Baise and Thornton continue to stumble through the past, Peterson listens. From time to time he is also busy with cafes.
"Back then (1992-93) I was working at Harmony House," says Thornton, who worked for Allied Media Projects, was the organizer of the first Detroit Electronic Music Festival (DEMF) and continues to queer and program. Themed but all inclusive parties like FreshCorp and other brands. "Then I started working with Clark Warner (former label manager of the Windsor-based Minus label, now Executive Creative Director for Beatport in Los Angeles) and Robert Stanzler at Made in Detroit. That was when we started our first parties."
"Where?" Asks Baise. "I know I missed some of these."
"We did Broadway in 1515. We did a place called Alley on Lincoln (across from the current Recycle Here! Facility)," says Thornton. "Just hop around. Our first rotation of residents was (now techno legends) Kevin Saunderson, Robert Hood, Claude Young and Dan Bell."
"Wow," says Baise.
"They were after parties, raves. We charged $ 3. That was a lot of money back then, hahaha," says Thornton.
Roots of zoot
All three play a role in the history of Zoot's coffee house, which is itself worthy of greater historical investigation. The building is now home to Model D, of course, but in 1992 it was an unknown hangout for the next generation of music and art folks from Cass Corridor.
How did it develop?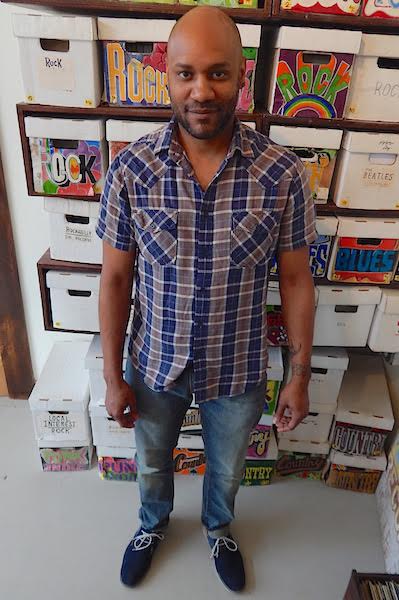 Adriel Thornton"Myself and Clark (Warner) and Aaron Anderson (later of Zoots Management) began creating ambient spaces at parties," says Thornton, who at the time was running a store called Space 19 with his Visual Laundry line in the basement of Zoot's house at 4470 Second Ave. "We rescheduled this to Monday night at Zoot's and it just started. We got Scott Zacharias, Carlos Souffront and Derek Plaslaiko (some of the best young, up-and-coming DJs in town) to play every week."
"I remember seeing live sets of replacement audio artists brought by Adam Miller (of Adult.)," Says Baise. "I was playing Trivial Pursuit with some people when (glitchcore innovators from Sheffield, UK) were playing Autechre there. We didn't know it was them and we were bothering them seriously, hahaha."
"That was the nature of the night. People could play anything," says Adriel, who adds that Autechre stayed in town a few days after performing at Utica's Four Bears Water Park.
"I was there too, haha, it was March 1996," says Baise. "They were great. I just didn't know they were (at Zoots)."
"It became a thing then," says Thornton. "It wasn't just our friends who came. We started charging $ 1 coverage. The anger over this was matched by nothing I've done since. People said I was like the greediest motherfucker on the planet, hahaha."
Around the same time, a party that Thornton was involved in on Broadway in 1515 was ambushed by Detroit police, accompanied by news reporters. The attack has long been considered a low point in the underground party scene. Trust in the media dwindled and then largely disappeared. More robberies, more media attention, now from TV crews, had a suffocating and corrosive effect on the local rave culture.
"It was on the front page of the Free Press. Channel 7 came out to speak to us at Zoots," says Thornton. "We had a meeting – I was with Sam (Fotias von Paxahau) and Richie Hawtin – we said we wouldn't speak to the media after that."
Get gay at Motor
Zoot's has been branded as the home of "Detroit's illegal rave scene" in what Peterson, Baise and Thornton think is ridiculous.
"Nobody danced there except when the TV cameras came up, hahaha," says Baise.
"The media said it was the place to get 'secret passwords' to find out where the raves were," says Peterson.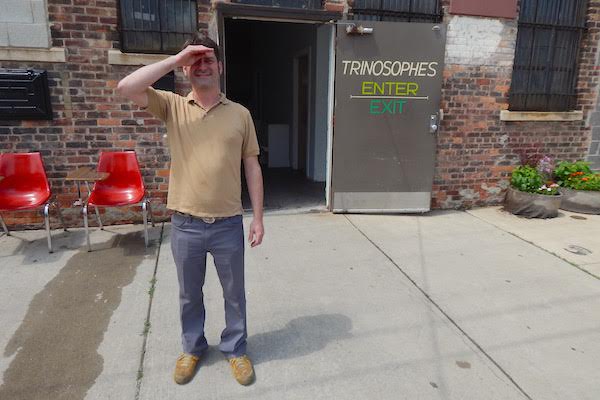 Joel Peterson
"After that, there was a significant spike in activity," says Thornton, "from people who haven't really done two shits about techno."
A transition was already under way. Thornton was asked to host a "gay night" at Motor, the Hamtramck "Super Club" (three rooms, capacity approx. 1,000), which had opened in the summer of 1996.
"I said 'no' first. All I knew about Motor was that there were 'cool people' with shiny shirts," says Thornton. "That wasn't my scene. I don't think I've ever been to Hamtramck either. I wasn't enthusiastic about it."
But Motor changed its programming and devoted itself to Detroit techno and its Sonic cousins ​​around the world. It began to book artists from Germany, England and other countries. Detroit-based Carl Craig and Derrick May headlined special events in the late 1990s, and Hawtin hosted his New Year's Eve party there from 1999 to 2000.
"I made up my mind. It had to be my kind of 'gay night'. No rainbow flags. Don't 'out' out if you know what I'm saying," says Thornton. "So we got 'Family' running on Tuesday night. It meant 'Underground Family' or 'Queer Family', but everyone got it. We had queues around the building almost every Tuesday."
The lines continued from the late 90s into the new century until Motor closed in late summer 2002. But even without a fixed location, the Family and Thornton brands continued to grow. Baise and Peterson have also pushed their projects forward.
Two hours have passed. We have to stop now. We'll meet again later this summer and take this conversation to the next level.
Walter Wasacz is the former editor-in-chief at Model D. He's been enjoying good music and real Detroit parties for a long time than he'd like to tell us.